PES Structural Engineers is pleased to announce that three of our recent projects received honors from the Structural Engineers Association of Georgia for the 2020 Excellence in Structural Engineering awards.
OUTSTANDING PROJECT AWARD – New Buildings $5 Million to $25 Million

Mary Our Queen Catholic Church, Peachtree Corners, Georgia
Mary Our Queen Catholic Church is a 37,500 square foot basilica-style sanctuary located in Peachtree Corners, Georgia.  Modeled after the former St. Gerard's Catholic Church in Buffalo, New York, the structural system for the white brick facility consists of steel framing, steel trusses, and bar joist roof framing, metal deck roof, reinforced slab-on-grade, composite steel elevated floors, and non-load bearing masonry and metal stud exterior walls supported on shallow foundations. In addition to a new sanctuary for Mary Our Queen parishioners, the new church includes a choir loft, a sacristy for priests and storing of vestments, a bride's room, and a small blessed sacrament chapel.  PES Structural Engineers provided structural design services as part of the Harrison Design team.  The Whiting-Turner Contracting Company served as the project's General Contractor.
MERIT AWARD – New Buildings $5 Million to $25 Million

Atlanta Gas Light Regional Business Center, Atlanta, Georgia Situated on an 8.2-acre lot, the Atlanta Gas Light Regional Business Center is an "all-in-one" facility which includes a 52,300 square foot office building, an 8,100 square foot covered service vehicle canopy, and a 2,400-fleet maintenance facility.  The facility is state-of-the-art in its design and layout and uses a variety of materials, including metal mesh, to filter out light on its facades.  Designed by Goode Van Slyke Architects and constructed by Hodges & Hicks Construction, the building is comprised of a structural steel frame featuring exposed AESS brace framing.  The skin is comprised of four different elements – brick, aluminum composite panels, fiber reinforced concrete panels, and a curtain wall glazing system.  The south and west curtain wall elevations are clad with perforated metal panels which diffuse direct sunlight, thereby eliminating the need for interior window blinds.
Photo courtesy of Goode Van Slyke Architecture and Jonathan Hillyer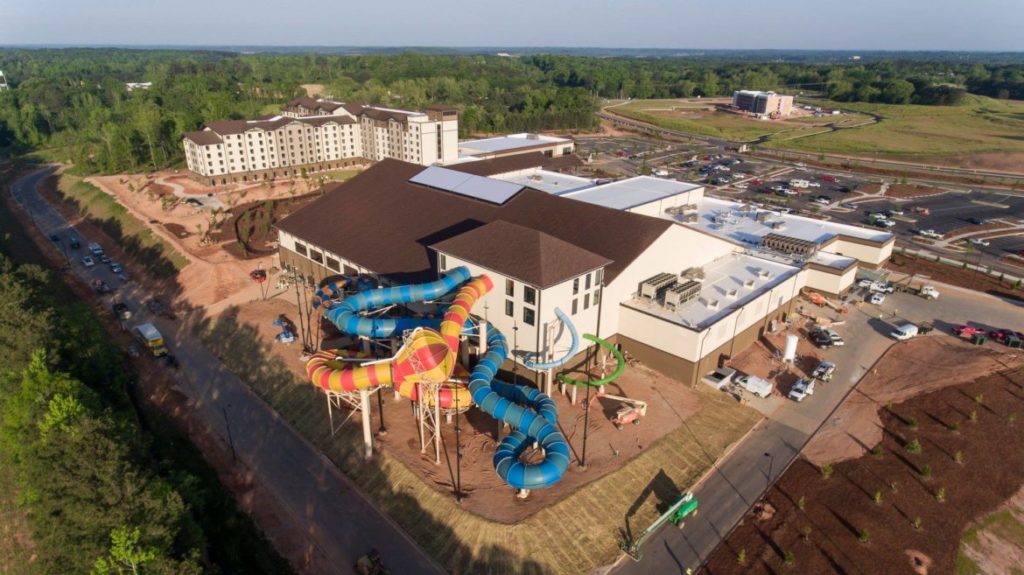 Great Wolf Lodge, LaGrange, Georgia Located just an hour southwest of Atlanta, Great Wolf Lodge is a 491,000 square foot resort featuring a 457-room hotel, a 30,000 square foot conference center, and 93,000 square feet of indoor water park space, as well as multiple outdoor pools, bowling, retail and miniature golf. The resort is also home to two full-service restaurants, and several branded amenities and entertainment activities. The structural system of the hotel consisted of seven stories of post-tensioned flat slabs supported on a concrete frame with reinforced concrete shear walls. The conference center, which is separated from the lobby and hotel by an expansion joint, is a one-story structure consisting of steel roof decking on steel joists supported by steel framing on shallow foundations. The water park, separated from the lobby and the family entertainment center by an expansion joint, serves as the centerpiece of the resort. The water park's structural system consisted of glulam framing and 55,000 square feet of exterior load-bearing tilt-up concrete panels.